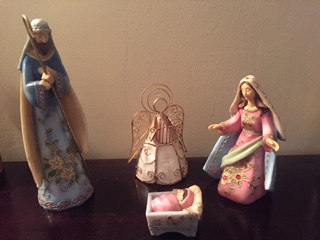 While they were there, the time came for the baby to be born,  and she gave birth to her firstborn, a son. She wrapped him in cloths and placed him in a manger, because there was no guest room available for them Luke 2:6, 7
"Daddy, Daddy, we're going to run out of gas!" cried the little girl as her father  was trying to navigate through the slippery Michigan roads. A December snowstorm was challenging the trip to deliver their fourth child. Tension was high and there was concern that they would not make it.  Just in time, he pulled up to the hospital entrance and escorted the mother inside. Immediately they took her back into the delivery room.  Before the father could park and finish the registration at the front desk, the nurse came out to announce that he was the father of a healthy 9 pound 15 oz baby girl! Me!
Twenty eight years later, "Pant, Pant, Blow…" My husband chanted as he carefully negotiated the icy roads that December night. My labor had just begun two hours earlier.  Since it was my first child, the doctor assured us we would have plenty of time to get the hospital.  Little did we realize that one simple delay and this baby would have been born in the car.  Just as the Lord's hand was on that car nearly three decades earlier, He guided us to the hospital safely.  After a confusing and chaotic 20 minutes, I was  holding my sweet baby girl.
Fast forward 29 years and now that same daughter had made an appointment to deliver her twins on December 28. We anticipated the arrival with excitement! We had showers, shared prenatal pictures, bought furniture, and helped decorate the nursery.  Both sides of the family were  involved and eager to welcome these two little beings.
With all these December deliveries, I thought  about the massive amount of preparation and details involved when we have babies today.  We send out pictures on social media, text, and even still call. Some parents film the entire delivery to share it with the child and others later. We have choices! Babies are born in hospitals with special designed rooms, in homes, and in birthing centers. Some are delivered by doctors and others by midwives, doulas, or even surgeons.
Contrast this to another birth, 2000 years ago that we now celebrate in December.  There were no showers, no pretty nursery prepared with a new crib and home-made quilt.  No doctors or even a doula to help with the delivery. The trip to the birth destination wasn't in a car with seats that reclined and a heater to keep the mother warm. Instead, she rode on a donkey and when that became uncomfortable, she walked on dusty roads. There was no one at their destination expecting them or preparing for this birth. In fact this couple was so rejected by society, they couldn't even find a clean room where they would be able to deliver this baby.  They were shunned and ultimately found room in  a stable with animals.
December rolls around and amidst the tinsel, trees, and carols, we are focused on this birth of Jesus. When we take time to compare it to our own deliveries, even the difficult ones, Mary's experience was challenging to say the least.  I look at the first Christmas and how little Mary and Joseph had when Jesus was born. I am sure they did not feel prepared for the massive responsibility on their shoulders, but they continued to trust the Lord and His plan.
Joseph had stayed true to his betrothal vows following through with the marriage despite the seemingly devastating indiscretion. God had appeared to him in a dream, confirming the deity of Christ's origins and Joseph rose to the challenge. It wasn't easy, even though he knew that it was God's plan to bring His incarnate son into the world in a humble setting on a silent night. In fact, the first people to be introduced to Him were not the priests, rulers, and kings, but the angels announced His birth to the lowly, humble, hard-working, poor shepherds.
When I look at the emphasis we place on traditions, decorations, gifts, events, and more, it's easy to get lost in the true meaning of Christmas. Instead of getting distracted this year, I want to focus on the divine parts of Christmas. The true meaning. God sent His son as a gift of love.  Just as Mary had a simple, probably not easy, but very unassuming delivery of the infant King, I think I can simplify some of our Christmas expectations. Instead of getting distracted with over-crowding the calendars, making sure the decorations and cookies are Pinterest perfect, I want to focus on the purpose for Christmas. The celebration of love, God's Love, delivered to earth.  My goal is to be intentional about demonstrating love in my words, actions, gifts, and freely refer to the true meaning of Christmas, the birth of Christ.
Just as the delivery of each baby is very different, so do our celebrations of Christ's birth differ.  How will you choose to focus on the divine purpose in this holiday season?
Dear Lord,
Forgive me for being wrapped up in the earthly trappings of this holiday. Just as the deliveries of babies are far different than they were when Christ was born, so are our expectations and preparations for this holiday. May my heart be focused on loving You and loving others in all I say and do.  Amen